The agricultural industry of South Africa is a vibrant sector with multiple organizations that represent national societies within the industry. These societies and associations represent, market and protect established and new farmers in their respective industries.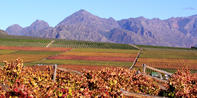 ©Louise Brodie
SouthAfrica.co.za's agriculture content partners are well-established with reputable connections in both local and international agricultural industries. These partners are involved with agricultural shows, conferences and expos and also work alongside affiliated academic institutions and stakeholders to ensure success.
Agricultural content partners are varied and scattered across the country, representing all agricultural endeavors.