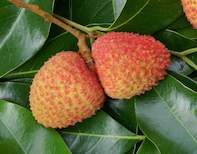 ©Bruno Navez
The South African Litchi Growers' Association (SALGA) is an industry body that exists to enable litchi growers to produce the best quality litchis for both the international and local markets and ensure profitable harvests.
Although the litchi industry is the smallest aspect of the three members of the Subtropical Growers' Association (Subtrop), SALGA has made astounding strides in research and in developing solid production and post-harvest programmes even with its limited resources.
SA Litchi Growers' Association is set on achieving far more for the litchi growing industry than any individual grower could do on their own. This is by identifying new opportunities, creating access to new markets and promoting the most efficient practices in sustainability and production for the growers and the industry as a whole.
The responsibility for the SA Litchi Growers' Association is to ensure the economical viability and sustainability of the litchi industry by coordinating actions with industry growers, distributors and partners.
The organisation liaises between all these facets of the litchi industry and with the government to create an undisrupted flow of information, research, legislation and policies regarding the South African litchi industry.
The association also functions with the intention of promoting the interests of local litchi growers and producers, while simultaneously addressing the issues that remain prevalent and common within the litchi industry.