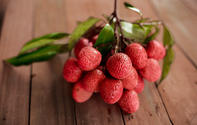 © HL Halls and Sons Group
Summertime in South Africa is synonomous with Litchis. These fruit are harvested from October to February.
Although a small producer compared to the volumes produced by China, South Africa's litchi production contributes to an important supply of southern hemisphere fruit to markets in the European winter.
The majority of litchis are produced in the warm subtropical areas of the Mpumalanga and Limpopo provinces where these fruits are harvested from October to the end of February.
This section gives a general overview of litchi farming in South Africa and hopes to increase the knowledge and enjoyment of this summer fruit.
By Marinda Louw