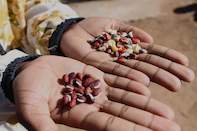 © Surplus People Project
South Africa's agricultural sector is one of the world's most diverse, consisting of corporate and private intensive and extensive crop farming systems, including vegetable, fruit, nuts and grain production. The well-developed commercial farming in South Africa is the backbone to the country's agricultural economy.
South African climate ranges from subtropical to Mediterranean, allowing for a multitude of farming opportunities. The country's biodiversity ensures that products such as grains, fruit and wine are exported and preferred for its exceptional quality.
There is a growing demand to improve subsistence farming or informal small scale farming in South Africa. South Africa Online ® provides factual and well-researched content on a variety of topics relating to agriculture, translated into all 11 official South African languages.
These 'how to' guides on farming are original content written by researchers, lecturers and specialists in their field and will empower new farmers in South Africa to improve their farming in a sustainable and profitable way.