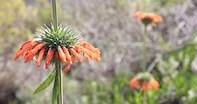 © Marinda Louw
Wild Dagga is a South African medicinal plant.
South Africa is the third most biodiverse country in the world and inhabitants have for centuries employed the help of indigenous medicinal plants.
These healing plants treated all sorts of maladies including cancer, diabetes and tuberculosis (TB) as well as more benign complaints such as the common cold, arthritis, menstrual problems, stomach issues, to ward off lighting, evil powers and chase away mosquitoes and dogs.
In this section SouthAfrica.co.za provides well-researched content on a variety of topics relating to South African Medicinal Plants, translated into all 11 official South African languages.