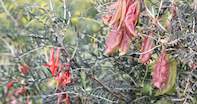 © Marinda Louw
Cancer bush was formerly known as Sutherlandia frutescens but is now called Lessertia frutescens.
Sutherlandia frutescen now known as Lessertia frutescens is called many names including sutherlandia, cancer bush and kankerbos. It has over 25 names, many local names allude to the multitude of healing characteristics.

First records from the Dutch colonisers in the Cape reported the Khoisan and Nama people using decoctions made from Sutherlandia to disinfect wounds and break fevers.

The name 'Phetola' (Tswana for 'it changes'), may indicate the alternation of many ailments into a favorable outcome. Its North Sotho name 'Lerumo-lamadi' ('the spear for the blood') considered Sutherlandia to purify the blood, insiswa (Zulu) 'dispels darkness' whereas its Afrikaans name 'kankerbos' describes its use as a medicine against cancer.
Sutherlandia frutescens - one of six species confined to South Africa - is a 1.2 m leguminous shrub with fine compound leaves and leathery seed-pods that bears red butterfly-shaped flowers from July to December. A drought-resistant plant which grows in the Western, Eastern, and Northern Cape provinces and some areas of KwaZulu-Natal, its chemical and genetic makeup varies across these geographic regions.

It is a popular garden plant that grows well in full sun and well-drained soil and can be easily propagated by sowing seeds in a soil mix of 2 parts sand, 1 part compost. The plant is mostly wild harvested but a few small commercial plantings of Sutherlandia are found in the Western cape and Mpumalanga provinces.
*The genus Sutherlandia, which is now sunk in Lessertia, used to contain only 6 species, widespread throughout southern Africa. The genus Lessertia, which now includes Sutherlandia, is widely distributed in Africa, consists of about 60 species, with around 50 in southern Africa. The species in the genus Sutherlandia differed from those in Lessertia, because they are adapted to a different pollinator - birds. In all other respects they are the same and Sutherlandia has thus been sunk into Lessertia.
Benefits of Sutherlandia Frutescens
The 'cure-all' of South African plants, Sutherlandia frutescens is widely praised for its immune boosting, anti-viral and anti-inflammatory properties used for ailments such as arthritis, cancer and as a treatment of adult-onset, type-2 diabetes mellitus.

Traditionally all parts of the Sutherlandia frutescens plants were used to prepare decoctions according to the medical condition treated. For example, infusions from the leaves and stems are used to treat liver, kidney and stomach ailments.

Dried and powdered Sutherlandia frutescens plant parts steeped in hot water are used to stimulate appetite and prevent wasting (used with success in HIV/AIDS patients) and to treat hemorrhoids, urinary tract infections and gonorrhea.

Sutherlandia frutescens is also used in the treatment of mental and emotional stress, including irritability, anxiety and depression. Modern applications of Sutherlandia are in the form of teas, capsules, gels, creams and liquid extracts.
Medical Disclaimer
Information is for educational and informational purposes only and may not be construed as medical advice. The information is not intended to replace medical advice or treatment offered by healthcare professionals.
By Marinda Louw
For bulk or Sutherlandia Frutescens export enquiries please use the enquiry link below.