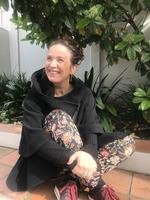 ©Shehzaad Armien
Marinda is a photographer and journalist who started her career with a BSc. (Agric) Degree in Food Science from the Stellenbosch University.
She has vast experience in the table grape and food industry, started the first commercial organic compost site in South Africa, worked as a winemaker in Germany and South Africa before starting her journalistic career with Media24 as a Community Journalist before moving on to YOU/Huisgenoot.
Her freelance career includes work in digital marketing and as a photojournalist and for various publications including Traveller24, Rapport, Food24, AFKTravel, Sawubona and others while her images have been included in art exhibitions in South Africa, South America and in various online and print publications.
Marinda has contributed content on Indigenous South African Medicinal and Food Crops, Viticulture, Organic Farming, Goat Farming as well as editing and sourcing of content and images, and Managing contributors for South Africa Online ® She lives in the Bo-Kaap, is currently learning Chinese and enjoys Krav Maga and travelling.