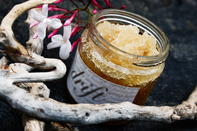 © Marinda Louw
Plant extracts and essential oils are recognised for their healing properties and increasingly used in modern versions of natural skin care.
Many plants in South Africa - whether indigenous or naturalised - have been used as natural skin care or organic cosmetics by indigenous people and tribes for centuries. Modern beauty trends are recognising the healing properties of plants as natural moisturisers, skin conditioners and for their beneficial effects on human health.
The African Wild Potato
Hypoxoside is extracted from Hypoxis hemerocallidea's tuberous rootstock and is converted to rooperol, which is a powerful antioxidant and free-radical scavenger. In addition, the African wild potato has a high sterol and sterolin content, which may possess potent anti-inflammatory and immune strengthening properties. Similar to cortisone it may reverse tissue damage and soothe muscle aches. It is a powerful antioxidant reputed to have anti-ageing effects.
Aloe Ferox
©Jacques Marais
Aloe Ferox plants near the Storm's River mouth at Tsitsikamma, Garden Route.
Aloe ferox gel has more active ingredients (aloin and amino acids) than its American relative.
Aloe vera. A popular ingredient in natural cosmetics, its moisturising and soothing properties are effective for treating sunburn or radiation and relieves itching. Apart from containing the enzyme bradykinase, that reduces inflammation, aloe ferox gel also has antioxidants and vitamins A, C and B12. Due to melanin-inhibiting compounds, it is also used as a natural skin lightener.
Baobab Oil
A thick, gently scented seed oil, baobab is used as a moisturiser, massage oil and a hot soak for dry nails and hair. Its very strong antioxidant properties, due to β–sitosterol, may reduce DNA damage in cells. In addition, baobab oil has an omega-6 content of around 30% and contains vitamins D3, F, K and E (an antioxidant) as well as vitamin A that renews cell membranes and can treat stretch marks by stimulating collagen formation. Vitamin F is an unsaturated fatty acid that rejuvenates and renews of cell membranes.
Soothing and penetrating baobab oil is helpful for psoriasis and eczema as it restores and re-moisturises the epidermis.
Kalahari Tsamma Melon Oil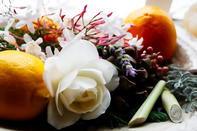 ©Marinda Louw
Oils and extracts from plants are used in natural cosmetics and skin care.
The Kalahari tsamma is native to the Kalahari region of Southern Africa and has been used for over 4 000 years as a natural moisturiser.
The San people (Bushman) use the oil as a moisturiser, to promote hair growth, with the fruit pulp mixed with water to apply as sunscreen.
Due to high levels of linoleic acid (similar to evening primrose oil) Kalahari melon seed oil is anti-inflammatory and therefore excellent for use on oily and acne skin. Linoleic acid reduces the hormonal secretion of sebum, restores skin elasticity and reduces wrinkles. Kalahari melon seed oil is also good for dandruff and itchy scalp.
Due to its fatty acid content, the oil is suitable for use in natural soaps.
Mongongo/Manketti Oil
Mongongo seed oil (Schinziophyton rautanenii) also known as manketti oil - is extracted (with difficulty) from the hard nuts of the Mongongo trees, which grow in the Kalahari region of Southern Africa, where it was used by the local people as a hair balm and natural sunscreen.
Mongongo oil, forms a non-oily protective layer on the skin and hair when the eleostearic acid in the oil reacts with UV light.
The light yellow mongongo seed oil is easily absorbed, which makes it ideal for aromatherapy and in natural cosmetic products. It is high in zinc (Zn) and vitamin E (an antioxidant) which adds to its protective and anti-inflammatory properties, it is especially useful in treating eczema and promote tissue regeneration and cell renewal.
Helichrysum Oil
Helichrysum odoratissimum (the most used species and endemic to South Africa) is known as everlasting, mphepho (Xhosa, Zulu), or kooigoed (Khoisan, Afrikaans).
The essential oil has a strong strong fruity-like smell and is used for perfume while the plant material is traditionally used to treat a variety of medical ailments.
When used as an ingredient in natural skin care and cosmetics, helichrysum oil's anti-inflammatory, antifungal and antiseptic properties may treat scar tissue, dermatitis and acne. It has anti-ageing properties that may encourage cell rejuvenation, ideal for use in sunscreens and skin creams.
Marula Oil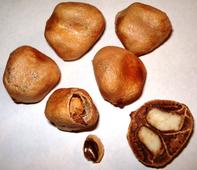 ©Genet
Marula Oil, extracted from the kernels, is a very stable oil and is suitable as a massage oil, in soap and as a moisturiser.
Marula oil (Sclerocarya birrea) was traditionally used in the Limpopo region of South Africa as a skin moisturiser, as a shampoo for dry hair, a base for soap and to massage babies.
Marula oil is an excellent source of natural oleic acid, which is high in antioxidant properties. It hydrates and smoothes skin and reduces redness.
Rich in essential fatty acids, marula oil's fine molecular structure is the key to its effectiveness as a natural skin moisturiser and is for mature and under-nourished skin. Also high in vitamin C and E the oil is very resistant to oxidation.
Marula oil has an excellent 'slip factor'; a perfect massage oil.
By Marinda Louw