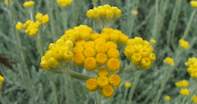 © Alice Notten of Kirstenbosch
Helichrysum essential oil has anti-inflammatory properties, is also antifungal, antiseptic and encourage cell rejuvenation.
Helichrysum Essential Oil is distilled from the aromatic bushy perennial herb that grows along the coastal regions of South Africa and in some mountainous regions of the Free State and Lesotho. The Helichrysum genus has over 600 species with over 240 growing in South Africa. Around five are used in South Africa for commercial essential oil production. The main three varieties are Helichrysum odoratissimum (most used and endemic to South Africa). H. splendidum (indigenous to South Africa) and H. italicum (the seeds were originally imported from Italy).
Climate determines yields. If the plants receive enough water it can produce two harvests per year - in spring and again in autumn. Plant material - leaves, stems and flowers - are used dried or fresh and steam distillation yields a pale yellow and thin, almost watery, oil. The fragrance is quite pungent, earthy and herbaceous. Plants are propagated through seed or cuttings (from new non-flowering shoots). There are producers in Clocolan in the Free State province (wild harvested and cultivated), north of Gauteng, Baviaanskloof (Eastern Cape) as well as in Stellenbosch and Piketberg in the Western Cape.
Benefits of Helichrysum Oil
Also known as 'Everlasting' by some, locals call it 'Imphepho' (Xhosa, Zulu), or 'Kooigoed' (Khoisan, Afrikaans). Traditionally it was used to invoke ancestors, clear negative energy from rooms or to fumigate sick rooms. As it repels insects, Helichrysum Oil was used as bedding and helped against insomnia. It is said to relieve tension and headaches and can be used to treat coughs, colds and fever. It has powerful antibacterial and antiviral properties, making it an essential in a first-aid kit to treat insect bites and even spider, scorpion and snake bites.
Helichrysum essential oil has anti-inflammatory properties, which is ideal for tendonitis, tissue pain and rheumatism. It is also antifungal, antiseptic and due to its regeneration properties can aid the healing of scar tissue, dermatitis and acne.

Its anti-aging properties encourage cell rejuvenation, making it an ideal ingredient in skin cream and sunscreens. Used in vapour therapy, it relieves bronchial congestion and acts against allergic reactions. Used in aromatherapy, benefits of Helichrysum Oil include that it may relieve stress and strengthen the nervous system.
Medical Disclaimer
Information is for educational and informational purposes only and may not be construed as medical advice. The information is not intended to replace medical advice or treatment offered by healthcare professionals.
By Marinda Louw
For bulk or Helichrysum Essential Oil export enquiries please use the enquiry link below.