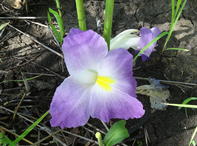 © Ton Rulkens
The African ginger plant flowers from October to February and has aromatic roots. It is on the brink of extinction.
African Ginger (Siphonochilus aethiopicus) is a popular Zulu herbal medicine that was believed to offer protection against snakes and lightning. More conventionally it was found to aid digestion, relieve sinusitis and asthma as well as reducing fevers by inducing sweating.
Wild African Ginger grows in Mpumalanga and the Northern Province but over-harvesting the root has caused the plant to be wiped out in KwaZulu-Natal. Ginger needs well-composted soil and can be propagated by dividing the rhizome in winter.
Benefits of African Ginger Oil
African Ginger Oil is an excellent anti-inflammatory and has also been used for its antibacterial, anti-fungal, pain-relieving and anti-tumour effects. The Swati people employ this to treat malaria and it can help prevent horse sickness in horses. In addition, the Cornell University Medical College has found that an active ingredient in ginger (gingerol) inhibits an enzyme that causes cells to clot. This may prevent strokes.

Ginger oil is used in the treatment of fractures, rheumatism, arthritis, digestive problems, nausea and hangovers. It helps against colds and flu and related symptoms such as sore throat, congestion, coughs and sinusitis. Skin conditions treated with ginger oil include sores on the skin and bruises.
The warming qualities of ginger oil are effective against winter depression while its energizing properties make it a good aphrodisiac. In a lotion or used as a hot compress it can be used for arthritis, muscle aches, rheumatism and also to help with poor circulation and to heal bruises.

Of the low-growing plant with its beautiful purple flowers only the roots are used. This is high in minerals and contains vitamins B3 and B5.
Medical disclaimer
Information is for educational and informational purposes only and may not be construed as medical advice. The information is not intended to replace medical advice or treatment offered by healthcare professionals.By
Marinda Louw
For bulk or African Ginger Oil export enquiries please use the enquiry link below.