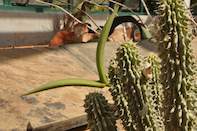 © Alice Notten of Kirstenbosch
Hoodia gordonii's seedpods look like goat horns (hence the Afrikaans name - 'bokhorings') and appear in early summer.
Sought-after for its medicinal properties, curious-looking Hoodia gordonii is also called 'Bitter Ghaap', Kalahari cactus, 'bokhorings' (goat horns in Afrikaans) or Khobab (in Khoisan). The plant is peeled and eaten raw and is known for its appetite-suppressant properties as used by Khoisan hunters who often went days without food and water.
This succulent grows in a variety of conditions (sandy to rocky soils) and can tolerate heat (over 40℃) and cold (-3℃). Hoodia is best grown from seed. Pink to purple-coloured foul-smelling flowers are produced in September to October which attracts flies to serve as pollinators. The seed capsules which look like goat horns (hence the Afrikaans name - 'bokhorings') appear in early summer. Hoodia is mostly found in the Kalahari regions of South Africa (Northern Cape), Namibia and Botswana.
Note: All Hoodia species are listed as protected species under the Environmental Conservation Ordinance No.19 of 1974 and a permit is required to grow, harvest, collect seeds or trade any Hoodia material.
Benefits of Hoodia
Research into this plant began in the 1960s and in 1977 a compound, P57, was isolated from Hoodia gordonii by the South African Council for Scientific and Industrial Research (CSIR). This compound purportedly sends signals to the brain to help the body feel 'full' and has been marketed in the form of appetite suppressant pills to curb appetite.

Some studies on animals have found side-effects such as increased heart rate. Hoodia is available as liquids, powders, tablets, teas, lollipops and capsule
Medical Disclaimer
Information is for educational and informational purposes only and may not be construed as medical advice. The information is not intended to replace medical advice or treatment offered by healthcare professionals.
By Marinda Louw
For bulk or Hoodia export enquiries please use the enquiry link below.