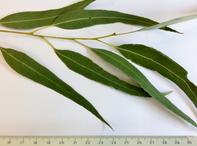 © Geekstreet
Eucalyptus smithii is one of the main oil-producing eucalyptus species grown in South Africa.
Eucalyptus was originally used by Aboriginal Australians for its antiseptic properties - healing wounds, fungal infections and also to break fevers whereas the Chinese, Greek, European and Ayurvedic healers employed eucalyptus as a disinfectant and expectorant. As early as the 1880s, surgeons were already using eucalyptus oil as an antiseptic during operations.
Eucalyptus is not indigenous to South Africa. The leaves are harvested from specially planted gardens and plantations. The main oil-producing eucalyptus species grown in SA are Eucalyptus smithii, Eucalyptus dives and Eucalyptus australiana.
South African eucalyptus oil production account for approximately 5% of the world's supply. Other main producers are China and Australia. In South Africa, the trees are grown in the KwaZulu-Natal (KZN) and Mpumalanga provinces. The main production facility is in the town of Richmond, KZN.
Benefits of Eucalyptus Oil
Eucalyptus oil is antiviral, antibacterial and can relieve cold and flu symptoms. It helps to decongest the sinuses (by steam inhalation) and is used in saunas for muscles aches and due to its antimicrobial properties, it is also used in cleaning products.

Eucalyptus oil is also an excellent insect repellent and can be used to wash pets and their bedding. One very important benefit of Eucalyptus oil is its ability to address mental exhaustion through creating a cooling and refreshing effect.
As a stimulant, it helps eradicate exhaustion and mental sluggishness, it rejuvenates the spirit and has been used in classrooms as a form of aromatherapy. Eucalyptus oil should not be used by pregnant women, children of people suffering from low blood pressure, diabetes or kidney, liver and stomach disorders. The oil is flammable and should be kept away from open flames such as candles.
Medical Disclaimer
Information is for educational and informational purposes only and may not be construed as medical advice. The information is not intended to replace medical advice or treatment offered by healthcare professionals.By
Marinda Louw
For bulk or Eucalyptus Oil export enquiries please use the enquiry link below.