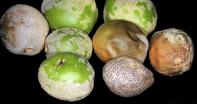 © SAplants
The Mongongo Fruit (manketti) contains a hard nut - in front - which produce a rich oil high in vitamin E.
Mongongo trees (Schinziophyton rautanenii), also known as manketti, are found in southern Africa especially in the deep sandy soils of the Kalahari. It has been used as food and for skin care (natural sunscreen and hair ointment) for millennia by local people.

It contains a unique acid that reacts with UV light to form a non-oily protective layer on the skin and hair. The seed oil is high in zinc (Zn) which adds to its protective properties. The plum-sized fruit, about 3.5 cm long, looks like velvety eggs and fall to the ground from March to May to ripen. It contains a thin layer of edible flesh and a hard shell with seeds inside.
Mongongo Nut Fruit
Mongongo Nut fruit is eaten by kudu and elephant, which 'discard' the 'cleaned' seeds in neat piles. When hand-harvested, the fleshy part of the Mongongo Nut fruit needs to be cleaned off before the shell is crushed to extract the oil from the seeds. The highly nutritious seeds can also be roasted and taste like almonds or cashews.

Fruit are wild-harvested and have great potential for oil production but the difficulty of extracting the kernel is one reason why exploitation of mongongo has been limited in the past. The kernel has a protein content of about 25%, a fat content of about 50% and a high vitamin E (tocopherol) content - around 560 mg per 100 gm of kernel.
Benefits of Mongongo Nut Oil
Mongongo nut oil has saponification properties which make the oil useful in soaps. The dense rich mongongo nut oil is hydrating, regenerating and restructuring due to a high linoleic acid content (between 30% and 54%) and is used in skin care (as a cleanser, moisturiser and emollient) and hair products.
The high protein and oil content make Mongongo nut oil an excellent treatment for dry and frizzy hair and can help to prevent hair loss. As a massage oil, mongongo oil relieves dry flaky skin and helps wound healing by promoting cell regeneration.
Medical Disclaimer
Information is for educational and informational purposes only and may not be construed as medical advice. The information is not intended to replace medical advice or treatment offered by healthcare professionals.By
Marinda Louw
For bulk or Mongongo Nut Oil export enquiries please use the enquiry link below.