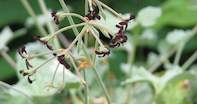 © Peganum
The black pelargonium (Pelargonium sidoides) has aromatic leaves and is used to treat bronchitis and sinusitis.
Cape chamomile (Eriocephalus punctulatus) is one of the lesser-known 'camomile' plants used for its oils healing properties. Its more famous cousins, used for essential oils, are the German and Roman chamomile, but the Maroc camomile is also used. Technically it is not a 'camomile' but the presence of azulenic compounds that gives the oil the characteristic blue colour associated with camomile oils.
Roman chamomile (Anthemis nobilis) is grown organically on Phandulwazi farm in the Tyume Valley, near Hogsback in the Amathola district. Plants are not easy to propagate and is sensitive to overwatering. Leaves are harvested once a year and is done by hand. It prefers cooler, high altitude regions.
Benefits of Cape Chamomile
This indigenous fynbos is recognised by its fruity fragrance and deep blue colour extracted (by steam) from the stems and leaves. Cape Chamomile oil is praised for its calming properties and is the oil of choice for the treatment of anxiety, lack of sleep and headaches. Traditionally the leaves were used in pillows to encourage good dreams and it was used to disinfect and dispel spirits after a death in the house.
Cape chamomile is anti-inflammatory and can be used to heal muscle and joint pains associated with arthritis, neuralgia and back pain. The oil is used in cosmetics for its anti-inflammatory and soothing properties and due to its low taste threshold, may be used as a flavourant in foods. Cape camomile is grown on the Skimmelberg farm in Clanwilliam but grows wild in the mountains of the Eastern Cape and Free State.
Medical Disclaimer
Information is for educational and informational purposes only and may not be construed as medical advice. The information is not intended to replace medical advice or treatment offered by healthcare professionals.By
Marinda Louw