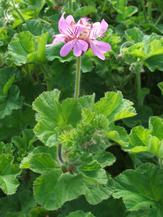 ©Alice Notten of Kirstenbosch
Cape Rose Geranium essential oil - Pelargonium capitatum x radens (rose) - is the preferred one of 700 varieties of cultivated geranium and a hybrid of two of the three oil-producing pelargoniums. There is some confusion about the name; the plant is a pelargonium but the 'geranium' classification has stuck over the years.
Although indigenous to South Africa, it is cultivated worldwide, especially in India, China and Egypt. The leaves are harvested three to four times per year and are then steam-distilled to produce a thin yellow-greenish oil. The main South African production areas for rose geranium are the Mpumalanga, KwaZulu-Natal, Western Cape and Limpopo provinces.
Cape rose geranium can be grown in a variety of soils, provided it is not waterlogged. It should be propagated from cuttings and planted directly into the soil. Organic nitrogen fertilisation is important (100 to 300 kg/ha). The plant is sensitive to cold and susceptible to pests as well as fungal and bacterial diseases.
Benefits of Cape Rose Geranium

Cape Rose Geranium is native to South Africa where the Sotho people used the leaves to make a paste for the treatment of abscesses and wounds. The conventional application includes treatment of PMS and menopausal problems and is also used as an antidepressant as it balances hormones. Rose geranium oil is important in aromatherapy treatments and is considered a balancing oil for the mind and body.

It can regenerate tissue and nerves and assist in balancing hormonal problems. The oil can be used in a diffuser, a few drops added to a warm bath or mixed with a carrier oil (almond or coconut) and massaged into the body. As an ingredient in cosmetics, it is suitable to reduce excess sebum and helps repair burns and broken capillaries.

It is also used in the food industry as a flavouring in especially pink-coloured products. Cape rose geranium essential oil is also antibacterial, anti-inflammatory and repels insects as it contains geraniol and citronellol.
Medical Disclaimer
Information is for educational and informational purposes only and may not be construed as medical advice. The information is not intended to replace medical advice or treatment offered by healthcare professionals.By
Marinda Louw
For bulk or Cape Rose Geranium Essential Oil export enquiries please use the enquiry link below.