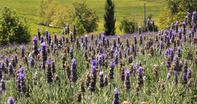 © Marinda Louw
Fields of lavender on the Canettevallei farm near Stellenbosch.
Lavender is a Mediterranean plant and not indigenous to South Africa, however, it is planted here and high-quality lavender oil is produced and exported from South Africa. The name 'lavender' comes from the Latin verb lavare 'to wash' or 'to bathe'. The plant commonly known as 'lavender' is more than one species with resulting confusion between lavender and lavandin. This article will highlight the difference between lavender and lavandin oil.
The two most popular varieties are Lavandula angustifolia - also called 'true lavender' or English lavender and Lavandula dentata - referred to as French lavender or spike lavender. A third species, a hybrid of L. angustifolia and L. latifolia yield an oil referred to as lavandin. Lavandins are bigger plants and used more for their sweet but the slightly camphorous aroma, popular in cleaning products and to be used for sinus conditions.
Lavenders have sweeter scented flowers and used more for therapeutic value as it contains fewer camphor compounds. It can help relieve tension headaches, skin irritations and helps with digestion. A Korean study has found that lavender oil can relieve insomnia and depression. Industrial applications for lavender oil include detergents, cleaning agents and bath products due to its powerful antiseptic properties that can kill many of the frequent bacteria such as typhoid, diphtheria, streptococcus and pneumococcus.
It is a relaxing, calming oil used in cosmetic applications due to its soothing properties and can prevent scar tissue and heal burn wounds. The oil may be used neat, but best diluted in a carrier oil and massage into affected areas. Lavandin is also an agent that keeps the nervous system in order and may act as a tonic for the nerves, strengthening nerves and activating them.
Harvesting of the flowers and stems are done in December and January, usually not on very hot or windy days as this can affect oil yield. Oils are produced by steam distillation where concretes are excreted using solvents. True lavender yields 8 to 30 kg and lavandin 40 to 220 kg essential oil per hectare (ha), and 500 to 1 000 kg dried flower stems per hectare, depending on location, management and cultivar. There are 48 species of lavender with hundreds of various genotypes but three main species are used to produce lavender essential oil; L. angustifolia, L. latifolia (spika, broad leaves) and the L. angustifolia x L. latifolia hybrid. The oils produced from each are different in composition and end-use, for example, oil from lavandin hybrids produce a sweeter oil for use in perfume.
The perennial bushy shrub flowers in summer and is cultivated in the Western and Eastern Cape, KwaZulu-Natal, Free State, Gauteng, Limpopo and Mpumalanga provinces. All lavenders are sensitive to high humidity and high summer temperatures adversely affect oil quality. Spike lavender doesn't like frost. Plants prefer full sun and light, well-drained soil. Do not over irrigate.
Medical Disclaimer
Information is for educational and informational purposes only and may not be construed as medical advice. The information is not intended to replace medical advice or treatment offered by healthcare professionals.
By Marinda Louw
For bulk or Lavender and Lavandin Oil export enquiries please use the enquiry link below.