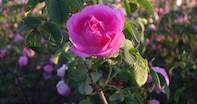 © Highlands Essential Oils
Rose damascena, grown in the free State province of South Africa is used to produce rose essential oil products.
Damask Rose Oil is, more correctly called, Rose Damascena oil. Rosa damascena is indigenous to the Middle East and found in Turkey and Iran but the largest rose plantings are in Central Bulgaria. Rose oil has been used for centuries to treat asthma, coughs, congestion and fever, but is also used for perfume, in skin products and cosmetics.
The yield of oil depends on several conditions including climate, the time of the harvest, condition of the flowers and the method of distillation. During the middle of the harvest period the yield is higher than at the beginning while mild weather conditions will further increase yield.

Rose oil is extracted from the fresh flowers by steam distillation and produces a pale yellow oil that congeals to a wax below room temperature. About 1 kg of oil is extracted from 4 000 kg fresh roses. Rose concrete is produced by extraction with hexane and about 1 kg of rose concrete are produced from 350 kg of fresh flowers. Rose leaf concrete is also produced.
Produced in Clocolan in the Free State province and the Hogsback area of the Eastern Cape, Rosa damascena flourishes in high rainfall areas and cool climates as the rose needs cold winter to stimulate flower production. Due to the short flowering season, only one harvest is produced per year.
Benefits of Damask Rose Oil
Extracts of rose oil contain vitamins, minerals, antioxidants and anti-inflammatories and are suitable for use on all skin types, including sensitive and oily skin. It helps to reduce redness and has excellent moisturising properties.

In addition, rose oil can help treat psoriasis and help wound healing. Using rose oil in a hot or cold compress can reduce swelling and ease cramps, including menstrual pain.
Medical Disclaimer
Information is for educational and informational purposes only and may not be construed as medical advice. The information is not intended to replace medical advice or treatment offered by healthcare professionals.By
Marinda Louw
For bulk or Damask Rose Oil export enquiries please use the enquiry link below.