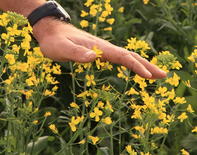 © Glenneis Kriel
Canola is primarily produced in the southern Cape and Swartland.
Because of the huge variation in climatic conditions, field crop production in South Africa may be divided into two main categories, namely summer crops and winter cereals.
The most important summer crops are maize, soybeans, sunflower seed, groundnuts and sorghum, which are produced in the summer rainfall regions.
The most important winter cereals are wheat, malting barley and canola. Wheat is produced throughout the country, but the Western Cape, which falls in the winter rainfall region, accounts for almost half the area under production and is in effect the biggest contributor to the overall production.