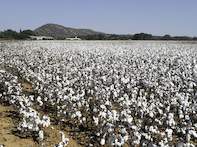 © Tanya Aucamp Cotton SA
A commercial irrigation cotton farm in Marble Hall area of the Limpopo Province.
Cotton is a versatile fibre crop and the most widely used natural fibre. It is not only used in textiles such as clothing, towels and bedding but in industries producing paper, ammunition, soap, furniture and tyres. Some of its byproducts include cottonseed oil and cottonseed meal, a protein-rich animal feed and recent tests indicated that raw cottonseed oil is suitable for the production of paraffin and diesel.
Cotton production in South Africa is supported and enhanced by the efforts of Cotton SA and the Department of Trade and Industry (the dti) who were instrumental in establishing the Sustainable Cotton Cluster (SCC) to revive the local cotton industry and support new cotton farmers. It was funded by an initial grant of R200-million from the dti.
In the five years from 2014 since the establishment of the SCC, there was a 500% increase in cotton planted - up from nearly 6 900 to 43 000 hectares - and an 800% increase in cotton lint production in South Africa - up from 5305 to 49 000 tons.
By Marinda Louw