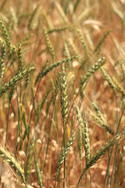 ©Glenneis Kriel
Wheat derived from natural grasses.
Wheat evolved from wild grasses more than 10 000 years ago in areas now occupied by Turkey, Syria, Afghanistan, Iraq and Iran. It is a cereal crop with edible kernels.
Jan van Riebeeck planted South Africa's first wheat in 1652, with original varieties brought in by trading vessels travelling between Europe and the East Indies. Production was well established in the Cape by 1684, according to the Agricultural Research Centre's Production Guidelines for Wheat. Evaluation of cultivars started in 1891 and the first wheat breeding programme was initiated in 1902.