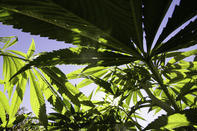 © Marinda Louw
Hemp, the innocent member of the Cannabis family can grow up to 5 m tall.
Hemp is a variety of the Cannabis sativa plant species that is grown specifically for its various uses. Hemp can be used as food (high protein hemp flour and hemp oil), as fibres for clothing and industrial textiles, in animal feed, for medicinal uses such as CBD-oil and part of industrial applications including building materials and paints.
Cannabis sativa is classified as 'hemp' when it has low levels of the psychoactive cannabinoid tetrahydrocannabinol (THC). Permissible levels of THC may vary from 0.1% to 0.3% according to legislation in different countries. Hemp, therefore, does not induce a 'high' when ingested.
The trade of hemp in South Africa is controlled by the Medicines Act in South Africa, which has impacted the cultivation of hemp as a viable resource that could substantially grow South Africa's economy, and in turn, provide sustainable jobs combatting the employment rate in SA.
However, possibly due to misinformation, hemp is still classified as a schedule 7 'controlled substance' product, similar to heavy drugs like Mandrax and heroin. Permits for the growing of hemp in South Africa for 'research purposes' can be obtained from the South African Health Products Regulatory Authority (SAHPRA) and is valid for 12 months.
This series of articles on hemp is being translated into all 11 official South African languages to inform readers on the versatility of the hemp plant and its uses.
By Marinda Louw