Many parts of the hemp plant, Cannabis sativa, are suitable for animal use. Hemp seeds, leaves, and hemp seed oil cake can be fed to animals, however many applications are still in the research phase.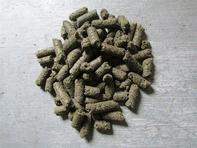 ©Fertile Fields Ltd
Although hemp can be used as bedding and straw for animals, the high protein seed cake (here in the form of pellets) may be used as a protein replacement in feed formulations.
As stated by the 'Farm Bill' (or Agricultural Improvement Act) made public in 2018, the US defines industrial hemp suitable for use with animals when it contains no more than 0.3% of the psychoactive cannabinoid THC. In the European Union, the THC level in dry plant matter may not be higher than 0.2% for cannabis to be classified as 'hemp' - Marijuana has THC levels of 15% - 40%.
These classifications of hemp are legal and not physiological, as species and strains of marijuana and hemp can cross with each other.
Uses of Hemp for Animals
Little research has been conducted on hemp as food for livestock. However, it has been reported that hemp leaves are fed to pigs and other livestock in rural China.
A study by the University of Kentucky in the USA has found that the production of vegetative material in hemp, specifically leaves, depends on the length of the growing season and the date of planting; later planting leads to quicker seeding and fewer leaves. The study suggests that the value of hemp as animal feed for livestock lies in the nutritional content of hemp seeds, especially when leaf production is limited.
Hemp can be processed into silage; the relative feeding value of hemp silage was found to be similar to lucerne. Hemp leaves are used as absorbent bedding for animals. While the waste materials - hemp seed meal - that is left after the oil is extracted from the seeds, can be used in animal feeds.
With the extraction of oil from hemp seeds, the residual seed cake is left. The relatively high crude protein content of the hemp seed cake can make the hemp meal a protein substitute in the diet of pets and livestock. Hemp meal contains protein, iron, magnesium and manganese, as well as high levels of dietary fibre and essential amino acids.
Hemp seeds are commonly used as birdseed and in seed mixes. It is also used as fish bait for carp. For fish bait, hemp seeds are steeped in water and cooked until it starts to split. Then a bit of hemp seed oil is added after which the hemp is used as ground bait.
Hemp as Feed Additive
As of January 2019, 40 states in the USA have been allowed to study the feasibility of hemp as animal feed. Hemp will be fed in the form of crushed hemp seed meal, pellets or hemp oil given as a supplement.
Even though the US Agricultural Improvement Act of 2018 expanded the legal production of hemp beyond it being limited to institutions of higher education and state departments, the law does not address the use of hemp as a feed additive. Therefore the use of hemp in animal food is still not allowed.
In September 2019 it was reported that the US-based Hemp Feed Coalition is working with the FDA-Center for Veterinary Medicine to open up new markets for the use of hemp as a feed additive in animal feeds.
In 2008, a Swedish university compared hemp seed cake (after cold extraction of the oil) to soya meal as a protein feed in the diets of young calves. Results showed similar growth but improved rumen activity (digestion) with hemp seed cake.
In Canadian tests in 1998, hemp was also tested with sheep to replace heated-treated canola meal in up to 20% of total dry matter of the feed with no harmful effect on feed intake or nutrient utilisation.
A study, published in 2012 in Poultry Science, reported that when hens were fed a diet consisting of 20% hemp seed, their eggs were heavier and contained higher levels of omega-3 fatty acids.
By Marinda Louw