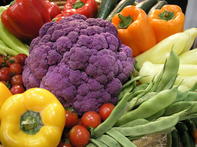 © Louise Brodie
Filled with vitamins and nutrients, vegetables are perfect foods. Eaten in a variety of ways - from raw to roasted or as part of a hearty meal - vegetables can add flavour and substance to any dish. Moms and doctors the world over know what they're talking about when they tell you to eat your vegetables.
Vegetable farming in South Africa is not simply a matter of throwing some seeds in the ground and waiting for perfect produce. Optimal conditions vary from plant to plant and there is much to consider if you want a thriving crop.
SouthAfrica.co.za covers the nitty gritty of growing healthy vegetables in South Africa of all shapes, sizes and varieties from wholesome butternut to delicate asparagus in all 11 official languages.