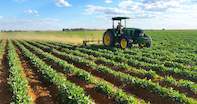 © Michris Janse van Rensburg
A field of cowpeas - an indigenous legume crop planted near Bultfontein in the Free State - are being tilled to remove weeds.
South Africa is blessed with thousands of useful plants, many used in the daily lives of millions of South Africans to provide nourishment to both humans and animals. These plants are being rediscovered and researched as a means to diversify the South African diet and provide sustainable income. Southafrica.co.za is providing well-researched content in all 11 South Africa languages to allow for all citizens to plant, harvest and enjoy the bounty of indigenous South Africa fruit, grains and vegetables.