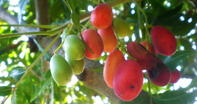 © Jardín Botánico de Barcelona
A study found the indigenous South African fruit, the wild plum (Harpephyllum caffrum) to have more antioxidants than cranberries and blueberries.
South African Indigenous fruits are fruits that are found in the wild, but are also commercially grown to be eaten fresh or processed into products such as jams or drinks. It is one of the main options in times of hunger and nutritional deficiency in Southern Africa.
Studies have shown that harvesting fruits from the wild and from the semi-domesticated trees growing on farms can boost rural employment. In addition, processing indigenous fruit into jams and juices can create an extra income. Native edible wild fruits can help prevent food insecurity (not having enough food), especially 'hidden hunger' - a lack of nutrients and vitamins.