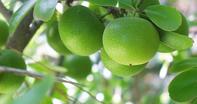 © Raasgat
When the fruit of the kei apple ripens to yellow, it has a texture much like an apricot.
Kei apple (Dovyalis caffra) is also called appelkoosdoring, Umgokolo, Amagokolo, wild apricot, um-Qokolo, Umkokola, Dingaan's apricot and Motlhono. The wild apricot (D. zeyheri) and common sour berry (D. rhamnoides) are two other fruit species in the Dovayalis family.
The Kei apple is a drought and frost resistant evergreen tree/shrub that grows between 3 and 5m high. It is found in valley bushveld, dry areas, wooded grassland, on forest edges of the Eastern Cape, KwaZulu-Natal and Limpopo provinces. The thorny Kei apple makes an excellent barrier or hedge plant (when planted close together and pruned) and has non-invasive roots.
The plant was exported to England in 1838 and spread over the world where it is planted as a hedge in coastal gardens - it tolerates poor saline soil and sea spray. Flowers are rich in nectar, attracting butterflies and insects. The fruits are popular with birds and humans, and leaves are enjoyed by livestock.
Kei apple fruit is edible with a texture both juicy and floury - much like an apricot. It is often added to fruit salad, makes a good jam and is used in cakes or made into fruit drinks. Often considered too acidic to eat as is - the Kei apple is best cut and sprinkled with sugar before eating. Unripe fruit can be pickled and leaves make good animal feed. The fruit ripens from August to October and is best harvested in clusters. A knife is used to prevent tearing of the skins.
Kei apple is drought and frost resistant and grows well from seeds collected from ripe fruit. Seeds must be cleaned and dried before sowing. Kei apple tree seedlings can be bought at most nurseries in Kwa-Zulu Natal, Eastern Cape and the Western Cape.
Medical Disclaimer
Information is for educational and informational purposes only and may not be construed as medical advice. The information is not intended to replace medical advice or treatment offered by healthcare professionals.
By Marinda Louw