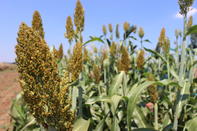 © ARC-grain crops
Indigenous to Africa, Sorghum is a warm-weather crop, suitable for dry areas and is used for animal feed, beer-making, malting and as a grain.
This section on grain crops of South Africa looks at crops grown by subsistence and commercial farmers. These crops are often very suitable to dry conditions and in an increasingly water-starved environment, these drought-tolerant grains can provide a rich source of carbohydrates and sustenance.
The section looks at indigenous grains in South Africa and includes the following crops deemed most important in South Africa by the Department: Agriculture, Forestry and Fisheries:
Pearl millet (Pennisetum glaucum)
Grain sorghum (Sorghum bicolor)
Bambara groundnut (Vigna subterranea), considered a 'grain-legume' crop
Southafrica.co.za provides content in all 11 South Africa languages. This will help farmers to gain knowledge in their mother tongue on producing indigenous grains for both human and animal feed.