Fruit Farming in South Africa consist of a wide variety of fruits - from oranges and apples to table grapes and dragon fruit, South Africa is a land of fantastic fruit and one of the main fruit producing countries in the world.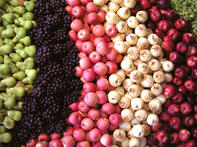 ©Louise Brodie
More than 50% of our agricultural exports is fruit, which contributes 2.5% to South Africa's Growth Domestic Profit (GDP).
Figures from Fruit South Africa indicated that more than 4.7 million tons of fruit are produced in South Africa of which 59% is exported, 28% is used for processing and 12% sold locally. Citrus, at 55%, forms the bulk of South African fruit production, while pome and stone fruit, 34%, table grapes, 6%, exotics and nuts, 5%, fill the rest of South Africa's fruit basket.
A huge industry to cover, South Africa Online ® is introducing fruit production in South Africa with a few smaller, lesser-known fruits. Information about the growing, harvesting and processing of fruit is available in all 11 South African languages to help all South Africans appreciate the bounty of their land.