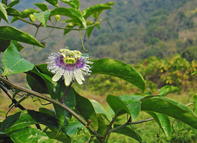 © Creative Commons
The flamboyant flowers of the granadilla plant make it a popular garden plant as well as a productive bearer of delicious fruit.
Vitamin C-rich passion fruit (or granadillas as they are known in South Africa) are mostly grown for export as fresh fruit or to be processed into granadilla pulp. It is a popular garden plant with attractive flowers that rewards the gardener or farmer with two crops per year.
This series provides an overview of granadilla farming, its uses and important producers.
By Marinda Louw