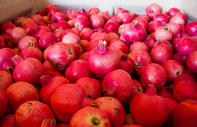 © Marinda Louw
Between 2012 and 2018 South African pomegranate exports to the Middle East has grown by 455%.
Pomegranates in South Africa are either a completely mystical fruit or one that is a fond memory from childhood when bushy shrubs grew in grandparents' gardens. Since the 2000's this healthy fruit has evolved into a booming export industry, especially stimulated by recent funding, which opened up new export markets for pomegranates from South Africa.
This section deals with a generic view of the pomegranate industry in South Africa and stresses the need for good soil development prior to planting and the often-underestimated water requirements of this fruit.