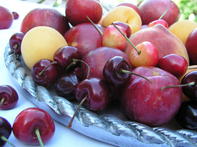 © Louise Brodie
Stone fruit includes all fruit that have a stone in them.
Stone fruit represents various fruit types that have a stone in the middle, such as peaches, nectarines, plums, lychees, mangoes, coconuts, and cherries as well as coffee beans, olives, almonds, dates and pistachios.
Unlike pome fruits, such as apples and pears which have a "core" filled with seeds, the pip in the stone fruit is not a seed but a protective layer surrounding the seed. Most stone fruit have a large stone, but a few, such as raspberries, have a multitude of small stones.