Global Output of Peaches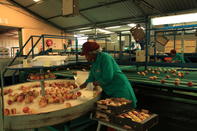 Dessert peaches are usually sold in the fresh market.
Peaches are native to the north-west of China. They are believed to have been domesticated along the Yangzi River, where fossilised peach stones have been found dating from 6 000 BC.
Peach blossoms were thought to "ward off evil". So much so that soldiers would carry peach blossoms as they preceded emperors, who would travel between towns. Peach blossoms were hung on doorposts at the start of each new year. The peach was also seen as a symbol of life and immortality.
The botanical name for the peach is Prunus persica, which means "present from Persia", referring to the Persian introduction of the peach to the Romans, who spread it to other parts of the world. China is still the leading peach producer in the world, followed by Italy and then the United States.
South Africa's Peach Production Areas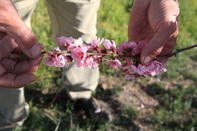 In the past it was believed that peach blossoms could ward off evil.
Most of South Africa's peaches are produced in the Western Cape region. Ceres is the leading dessert (freestone) peach production area, followed by Piketberg, the Northern Province, Klein Karoo, Wolseley, Tulbagh, and Paarl. Small volumes are also produced in the Free State, Eastern Cape, Gauteng, Mpumalanga, Langkloof and Hex River Valley.
The Klein Karoo accounts for almost half of the cling peach production in the country, with relatively large volumes coming from Ceres, Wolseley, Tulbagh, the southern Cape and Worcester. Small volumes are also produced in Villiersdorp, Vyeboom, the Hex River, Langkloof East, Piketberg and Mpumalanga.
Peach Season
The South African production season runs from October to March, depending on the variety and production region. This allows the country to export fruit to the Northern Hemisphere once the production season of those countries is over.
South Africa is, nevertheless, a small international player, accounting for a little over 15% of the peaches produced in the Southern Hemisphere. Their main competitors for the European and Asian markets are Chile, Argentina and Brazil.
Sales of Peaches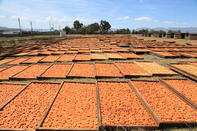 Peaches being sun dried on a farm near Tulbagh.
South African peach production surpassed 210 000 tons in 2015 but retracted to roughly 200 000 tons following severe drought conditions starting in 2017. Roughly 70% of the crop is canned each year, while the rest is either sold locally, dried or exported.
Mozambique, Zimbabwe, Lesotho, Singapore, the United Kingdom, Angola, Hong Kong, China, Mauritius, Saudi Arabia and the Emirates represent the main export destinations.
For bulk or Peaches export enquiries please use the enquiry link below.
Peaches were one of the first fruits planted in the Western Cape after the arrival of Jan van Riebeeck in 1655, and by 1892 it was one of the most planted trees in the Cape Colony, along with nectarines....
more