South African Peaches
Peaches were one of the first fruits planted in the Western Cape after the arrival of Jan van Riebeeck in 1655, and by 1892 it was one of the most planted trees in the Cape Colony, along with nectarines.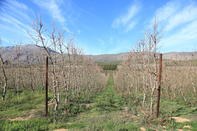 Cascade peaches are trellised to ease thinning and picking.
Peaches paved the way for fruit exports when it became the first fruit to be exported from South Africa in January 1892. The stone fruit was sent to England on board the Drummond Castle steamship and received much better prices than was initially expected.
South African Varieties
Numerous dessert and cling peach varieties are planted in South Africa, with the choice usually being guided by the production requirements and market demand. Old varieties are replaced with better, more efficient varieties when these become available.
In 2014, the main dessert peach cultivars were Transvalia, Sunsweet, Temptation, Witzenberg, San Pedro, Novadonna, Summersun, Golden Pride, Experimental, Fairtime and Excellence.
Kakamas, Keisie and Sandvliet accounted for more than half of all the cling peach varieties at some point in time. The other varieties included Oom Sarel, Western sun, Prof Neethling, Cascade, Supreme, Prof Malherbe, Wotemade, Goudmyn and Bonnigold.
Cling or Dessert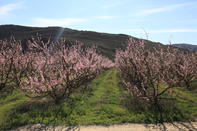 Keisie peaches have been bred by the Agricultural Research Centre and are named after a place in the Koo Valley.
Peach production is divided into two categories: cling peaches and dessert peaches. Cling peaches have a stone that tends to cling to the flesh of the peach, making it difficult to remove the pip without damaging the flesh. These peaches are primarily used for canning, the making of purees, jams and jellies.
Dessert peaches are also called freestone peaches because the stone is easy to remove without damaging the flesh. They are generally larger, firmer and less juicy than cling peaches. They are usually sold in the fresh market, although they may also be used for canning and baking.
Uses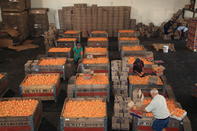 Peaches being sorted just after being harvested.
Peaches are high in fibre, vitamins and minerals, and contain beneficial plant compounds, such as antioxidants that help to protect the body against the effects of ageing. The fruit and skin are edible, but the stone should be discarded.
Peaches may be eaten raw, used in salads, dried, canned or used to make chutneys, sauces, confiture, jams or for baking. They can also be juiced or pureed.
Tips
When buying fresh fruit, look out for smooth, firm, and brightly coloured fruit. Soft fruit and firm fruit may be eaten immediately. However, firm fruit can be kept for longer and it can be ripened by leaving it in a bowl with other fruit, such as apples or bananas. Peaches can be placed in the refrigerator to slow down the ripening process.
The stone can be removed by cutting the peach along the seam, then twisting the halves in opposite directions and then pulling the halves apart.