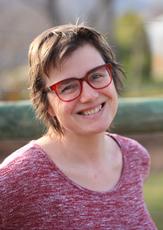 Glenneis Kriel's journey as a journalist started in 2002 when a friend suggested she write a couple of freelance articles for the magazine, Farmer's Weekly. A 'couple of articles' turned into a full-time job in 2003, when she became employed as the Western Cape editor.
After six years at Farmer's Weekly, she sought a new adventure and became employed as the features editor of Farming SA, where she was responsible for managing freelancers, traffic control, the layout process and the signing off of the magazine before printing. She also occasionally wrote articles and took photos.
Farming SA closed down in 2011 after which she was transferred to Landbouweekblad as a journalist. In 2014, Glenneis started her freelance career with clients such as Farmer's Weekly, 5MPublishing, South African Fruit Journal, The Sustainable Initiative of South Africa (SIZA), HORTGRO SCIENCE, HORTGRO, The South African Table Grape Industry, Finweek and more recently South Africa Online ®
She has won the John Deere Journalist of the Year Award in 2004, the HORTGRO Izethelo Award for Journalistic Excellence in 2007 and 2010, the Agricultural Writers SA's award for Journalism in 2010 and authored HORTGRO's New Orchard publication in 2014. Glenneis Kriel loves writing about agriculture, especially articles that inspire farmers to become more efficient and sustainable.
She believes these articles may improve farming bottom lines, result in more environmentally and socially responsible practices and boost food security. In between her embroidering of stories, you will find her mountain biking on a farm near her home in Bellville, or playing with her extremely energetic "almost human" six and seven year-old children.