Production Regions of Stone Fruit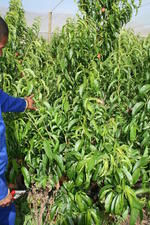 ©Louise Brodie
The pruning of stone fruit water shoots during summer.
South Africa is the largest stone fruit producer in Africa but only accounts for about 16% of production in the Southern Hemisphere, and only 1% of the global production. Nevertheless, SA has gained a reputation for the exceptional quality of its fruits, which is understandably in high demand, especially in Europe and the United Kingdom.
Stone fruit plays an important role in the country's history, representing the first fruit to be exported; in January of 1892 when 14 cases of peaches were sent to England on board the Drummond Castle - a steamship. As reported by the Post Harvest Innovation, less than 5% of the fruit was damaged when it reached its destination a couple of weeks later. This showed that it was possible for SA to successfully export fruit to other countries. The peaches were sold at London's Covent Garden market at a price that exceeded expectations.
Stone fruit has different chilling requirements depending on the specific fruit and the cultivar of fruit. What this means is that they require a minimum period of cold weather before they will blossom. The fruit is produced in all nine provinces in SA, but production is primarily in the Western Cape, where the climatic conditions are more favourable for stone fruit production.
Production is primarily centred on peaches, apricots, nectarines, and plums with about 350 000 tons of these fruits produced each year. Peaches and nectarines, in particular, represent more than half of this. Small volumes of cherries are also produced with volumes of lychees increasing steadily over the past few years.
Sales of Stone Fruit
About 20% of South Africa's stone fruit is exported, while the rest is consumed locally. The value of the South African stone fruit industry is estimated at over R2 billion, of which roughly 70% is generated through fresh fruit sales.
Stone fruit is not only an important contributor to the local economy but is also a large contributor to job creation in rural areas, employing an approximation of 24 000 labourers with an estimated 95 000 dependants.
For bulk or Stone Fruit export enquiries please use the enquiry link below.