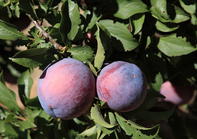 South Africa is internationally known for the high quality of its plums.
History of Plums
The origin of plums can be traced along two lines; the common European plum, which originated around the Black and Caspian sea, and the Japanese plum, which originated in China. Japanese plums are typically red, larger and juicier than European plums, which are primarily purple or bluish, and also green or yellow in colour. The European plums are oval in shape, whereas the Japanese plums are round with a pointed bottom.
To the Chinese, plums symbolise good fortune and legend has it that the ancient Chinese philosopher, Lao Tze, was born under a plum tree. In the Chinese historical novel, Legends of Three Kingdoms, one of the famous warriors, Cao Cao, persuades his soldiers to move out of danger, by telling them there is a tree with juicy plums awaiting straight ahead of them.
South African Production of Plums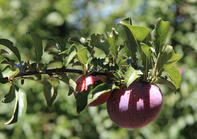 South African plums on the vine in a harvest field.
Plums were introduced to South Africa by Jan van Riebeeck, the Dutch colonial administrator, who made reference to the fruit in his diary on 11 October 1656.
Harry Pickstone, who is considered the father of the South African fruit industry, imported several Japanese varieties from California around 1896, and during 1907 the first native South African variety was discovered in KwaZulu-Natal.
The imported varieties did not do well under South Africa's production conditions, which led to formal research and development programmes, primarily driven by the Agricultural Research Centre (ARC) and specifically, Infruitec Nietvoorbi. Over the years, the ARC developed production standards and new varieties, some of which are still in high demand today, that are better suited to South Africa's climatic and production conditions.
Plum Production Regions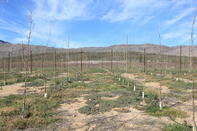 New plantations of ruby sun plum trees near Robertson.
Plums require low temperatures during winter to go into a rest period for optimal flowering and growth to occur. They are, in effect, produced throughout South Africa, but primarily in the Western Cape where climatic conditions are most favourable for plum production. The Klein Karoo has the largest area under production, followed by Paarl, Wolseley, Tulbagh, Stellenbosch, Franschhoek, Ceres, the Langkloof, Villiersdorp and Vyeboom.
Plums can grow in a variety of soil types but prefer deep, well-drained soils, ranging from sandy loam to sandy clay loam as viewed in the Department of Agriculture's comprehensive Plum Production Guide. This fruit type is more tolerant to waterlogged soils than most other stone fruit, with the exception of root-knot nematodes. Plums are highly sensitive to pathogenic nematodes. Rainy or windy conditions during flowering will have a negative impact on pollination and will lead to a poor fruit set.
Varieties of Plums
A large variety of plum cultivars are produced in South Africa. The choice of cultivar primarily depends on production conditions, such as the chilling requirement of the cultivar, disease resistance, and the requirements of the target market. The Hortgro's Key Deciduous Fruit Statistics revealed that Angeleno was the most planted cultivar in 2018, accounting for roughly 10% of the area under production.
Laetitia accounted for 9% of the area under production, whereas Songold, African Delight and Fortune each accounted for 6% and Sapphire for 5%. Pioneer, Flavor King, Flavor Fall, African Pride or Sunkiss and African Rose accounted for 3%, whereas Southern Belle, Purple Majesty, September Yummy, Sun Supreme and Larry Anne each accounted for 2%.
From the statistics, it is evident that farmers are primarily planting Ruby Sun, Angeleno, and Ruby Start when establishing new orchards.
Plum Season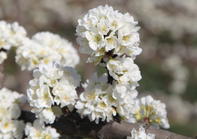 Blossoms of African Delight, which produces red skin yellow fleshed plums.
Depending on climatic conditions, the production area and cultivar, plums are produced from the second week of November up to the end of February in South Africa.
Sales of Plums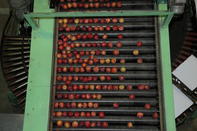 Most of South Africa's plums are exported.
South Africa's plums are of exceptional quality, receiving good prices on the international market, which helps boost the local economy and sustain jobs in rural areas.
Approximately 74% of South Africa's plums are exported each year, with Europe accounting for more than half and the United Kingdom for about a quarter of these sales. Large volumes are also sent to the Middle East, Russia, the Far East and Asia. Just over 20% of the plums are sold locally and 3% is processed.
Uses of Plums
Plums are an excellent source of vitamins, minerals and fibre. Research has also claimed that the stone fruit has similar levels of antioxidants to blueberries and should, therefore, be recognised as a super fruit.
Plums are primarily enjoyed fresh and in salads, but may also be processed. Plum sauces are an old favourite of the Chinese, used in and on various of their dishes.
For bulk or Plums export enquiries please use the enquiry link below.