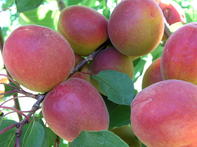 © Louise Brodie
The market is increasingly demanding apricots with more blush.
Origin and Output
The exact origin of apricots is uncertain, but the fruit is thought to be native to northern and western China, Central Asia, Japan, and Korea. Its scientific name, Prunus armeniaca, means Armenian plum, a reference to apricots having been historically cultivated in Armenia for centuries before it was spread by the Romans to European countries around 100 BC.
Apricots thrive in most temperate climates. Turkey is the largest international producer, followed by Uzbekistan. Large volumes are also produced in Italy, Algeria, and Iran; while South Africa is the largest exporter of canned apricots.
In 2003, South African farmers disposed of large volumes of apricots and uprooted apricot trees because it was believed to no longer be economically viable. The situation has improved since then, but profitability remains under threat due to rising costs in combination with sluggish growth in demand.
Apricots in South Africa
The first apricot trees arrived in South Africa during the 17th century, according to the Department of Agriculture, Forestry and Fisheries. These trees were exclusively planted in the Western Cape under winter rainfall conditions.
The Cape Apricot, which is probably a descendant of an original Chinese variety, was the most important variety in South Africa until 1900. Thereafter, varieties such as Old Cape, Early Cape and Late Cape, also known as Sweetstone, came into use.
Production Area of Apricots
Apricots do well in temperate zones but thrive in areas with cold, dry winters and dry, hot summers. While they are produced throughout South Africa, the bulk of production takes place in the Western Cape.
As surveyed by the Hortgro Tree Census, the Klein Karoo accounted for more than 75% of the area under production in 2018. Piketberg, Ceres, and Worcester were the other big producers of apricot, while Langkloof, Villiersdorp and Southern Cape, Paarl, Wolseley, Tulbagh, and Northern Province make up the smaller plantations.
The area under production measured smaller than ten hectares in the Upper Orange River, Mpumalanga, Cape Town, Eastern Cape, Free State and Stellenbosch.
Varieties of Apricots
The apricot Royal cultivar was introduced to South Africa for drying in the early 1900s, whereas the Bulida cultivar was introduced in the 1930s for canning. Bulida dominated the industry in 2018, accounting for more than half of the area under production as seen in notable statistics pertaining to deciduous fruit.
Soldonne, Bebeco, Imperial and Palsteyn was planted on more than 200 ha each, whereas the area under Supergold and Charisma was over 100 ha each. The production areas assigned to Royal, Peeka, Colorado, and Solitaire measured smaller than 100 ha for each cultivar.
The European market has steadily been moving away from traditional yellow apricots in favour of apricots with more blush, which resulted in a growing demand for these varieties. A substantial amount of new varieties have been released over the past few years.
Apricot Season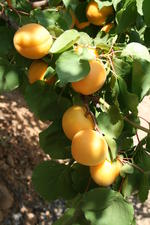 ©Louise Brodie
The South African apricot production season runs from November to March.
Depending on climatic conditions, the production area and cultivar, the apricot season in South Africa takes place from November to March, with small volumes trickling in around April.
Sales of Apricots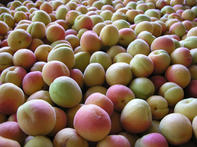 ©Louise Brodie
Most of South Africa's fresh exports are sent to the Middle East.
On average, 70% of South Africa's apricots are processed, whereas 16% is dried and 9% is exported fresh. Only about 4% of the fresh fruit is sold in the local market.
In terms of apricot exports, more than 50% of South Africa's fresh apricots were exported to the Middle East in 2018. The United Kingdom received 29% and Europe gained 16% of these fruits. Small volumes also went to Russia, the Far East, Asia, and the Indian Ocean Islands.
Uses of Apricots
Apricots are high in fibre, vitamins, especially vitamin A and C, and minerals. The fruit and skin are edible, but the stone is discarded. Apricots may be enjoyed fresh or canned, pureed, dried, preserved or juiced. They are also used to make chutneys and are included in cooking.
For bulk or Apricot export enquiries please use the enquiry link below.