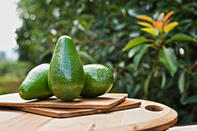 © Westfalia Fruit
South African avocados are used fresh, for avocado oil and to make guacamole from avocado pulp. This cultivar is Feurte.
South Africa is an important producer and exporter of avocados in the world. South Africa supplies avocados from the southern hemisphere when production in the northern hemisphere is limited as well as to a growing local market. About half of South Africa's avocado production is exported, mainly to Europe.
A nutritious fruit - rich in healthy plant oils and vitamins - avocados are mainly eaten fresh but are also processed into avocado oil and avocado pulp, commonly used for guacamole. The main avocado production areas in South Africa are in the subtropical regions of the northern provinces.
By Marinda Louw