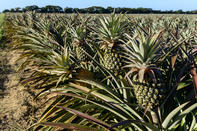 © Roger de la Harpe
Pineapple farming in Hluhluwe, KwaZulu-Natal, South Africa.
Pineapples are a tropical plant with juicy edible fruit, characterised by its golden hue and prickly outer layer. It is one of the most important subtropical fruits cultivated in South Africa, with production areas in Northern KwaZulu-Natal, Eastern Cape and North West.
Pineapples is a vital commodity in the export market and is also sold locally as it is in high demand. Pineapples are loaded with nutrients and antioxidants, as well as vitamins and fibre.
Its enzymes can aid digestion, boost immunity and suppress inflammation. It is highly sought after worldwide with a competitive international market.
The pine-cone shaped pineapple (Ananas cosmosus) is a tropical fruit in South Africa and is grown in tropical regions all over the world....
more