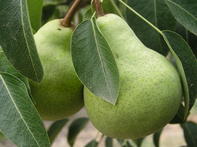 © Louise Brodie
Pear cultivar (Bon Chretien) ripening on the vine.
Pears are a domestic fruit that is predominantly grown in the Western Cape region of South Africa. This fruit is in season from February to August, and the bulk of production is exported to countries such as the United Kingdom. The rest are sold locally. Areas known for pear production include Elgin, Ceres, and Wolseley.
The bell-shaped, textured fruit is versatile and can be enjoyed in a range of ways, including raw, cooked, dried or preserved. It is high in fibre and a good source of vitamin C and potassium. Its high levels of antioxidants and nutrients help build the immune system, which makes it a popular choice for baby food.
Pears have been produced for thousands of years and were even referred to as "a gift of gods" in Homer's Odyssey. The genus consists of about twenty species of which half are found in Europe, North Africa and Asia Minor, and the other half in Asia....
more
Pear trees, like apple trees, grow best in temperate zones – regions with cold winters and moderate summers. The Western Cape, for this reason, accounts for more than half of all the pears produced in South Africa....
more