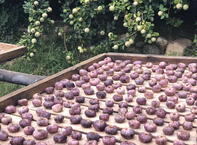 © Weltevrede Fig Farm
Fresh figs is a summer fruit in South Africa, harvested from December to April. Here figs are being sundried.
A delicate, yet versatile fruit, the fig has been known to mankind for millennia and is a hugely popular fruit in Turkey, which is the world's biggest producer. Fig farming in South Africa is mainly based in the dry warm regions of the Western Cape. Commercial farming started in the 1800s with dried figs and preserving figs as jams for home consumption to exporting fresh eating figs to the world market in the 2000s.
Figs are quite beneficial and contains dietary fibre, vitamin B6, magnesium, potassium, calcium, manganese and antioxidants. SouthAfrica.za highlights the production of figs, export and sales statistics, as well as fig products as uses of figs.
By Marinda Louw