South African olive producers focus on premium quality products, such as extra virgin olive oil and diversify their product range with value-added olive oil products, such as olive tapenades and skincare.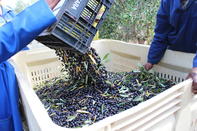 ©SA Olive
In South Africa, olives are handharvested. This ensures less bruising, better selection and excellent quality oil.
Olive farming in South Africa is mainly for the production of olive oil, although about two-thirds of South Africa's oil requirements are imported, mostly from Spain.
The most widely planted olive variety in South Africa is Frantoio, at 749 ha, although the plantings are reducing in favour of other varieties, such as Coratino and FS18. The olive variety Mission is the second most prolific variety in South Africa with 659 ha, which is used for both oil and table olive production.
By Marinda Louw