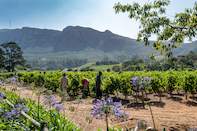 ©Chris Daly
The Wine and Agriculture Industry Ethical Trade Association (WIETA) is a not for profit, voluntary association of stakeholders in the South African wine and agriculture industry, who are committed to the promotion of ethical trade throughout the agricultural value chain.
The Wine and Agricultural Ethical Trade Association was formally established in November 2002, following a two-year long ethical trade pilot project in the wine industry. Since its launch, WIETA has had considerable success in promoting ethical trade standards in the wine industry, leading to the decision in 2005 to extend the work to the agricultural industry as a whole.
WIETA's mission is to improve working conditions and the livelihoods of people working in the farming sector. The association aims to achieve this through the formulation, adoption and promotion of a code of good practices, which governs employment standards for people who work throughout the agricultural supply chain. The code complies with South African labour laws, but raises the bar as it is built on the base code of the International Labour Conventions' Ethical Trading Initiative.
Wine and Agricultural Ethical Trade Association appoints independent social auditors, who are familiar with the unique challenges associated with the agricultural industry, to observe and help agricultural role-players implement the code, and also regulates ways to encourage implementation and compliance as well as measures taken when non-compliance occurs.
South African wine is renowned across the world, with South African wine estates producing quality wine vintages every year. South African wine was first produced in the 1650s...
more