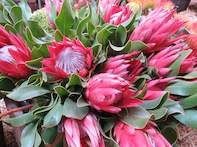 ©Louise Brodie
The South African Nursery Association (SANA) is a non-profit organisation that was established in 1947 with the intention of representing the interests of the green industry of SA. SANA is a mouthpiece for nursery businesses, traders, exporters, marketers and other individual plant associations.
The organisation represents associations within the green industry to ensure effective communication across the board, and are in partnerships with a multitude of businesses and trade vendors who support the efforts of SANA. One of its most important partners is the Growers Association, which was formed to ensure the coordinated and strategic development of wholesale growing operations on a national basis.
The South African Nursery Association's objective is to be a source of professional national communication for fellow Nursery businesses, and to uphold a good image of the Horticultural industry. They promote the matters of regional nurseries, and they provide regional forums for retail, wholesale nurseries and allied suppliers to meet and discuss matters of common interest.
SANA consists of an executive council that is in charge of all operations of the organisation, such as marketing, membership and finance, forums, events, bursary coordination, trade fairs and publications. They also facilitate networking opportunities, evaluation and educational platforms.
South Africa has a fabulous array of indigenous flowers that enhances the country's natural beauty and diversity. One of South Africa's marvels is its incredible diversity of plant and flower species...
more