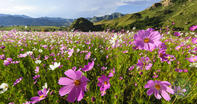 © Roger de la Harpe
Cosmos Flowers near Clarens in South Africa.
South Africa has a fabulous array of indigenous flowers that enhances the country's natural beauty and diversity. One of South Africa's marvels is its incredible diversity of plant and flower species found in the Cape Floral Kingdom (or the Cape Floristic Region) on the country's Western Cape.
The region includes exquisite flowers such as the king protea (South Africa's national flower).
South Africa Online ® has extensive information on South African flower species, translated into 11 official languages to provide people with factual, educational insight into South Africa's biodiversity.
Eight National Botanical Gardens are situated throughout the country in five of South Africa's six different biomes. When Kirstenbosch, the most famous of the Gardens, was founded in 1913 to preserve the country's unique flora, it was the first botanical garden in the world with this ethos. What makes the Gardens so famous worldwide is that only indigenous plants are cultivated.