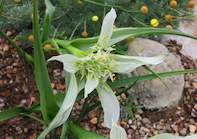 Name
Pyjama Flower
Latin Name
Androcymbium melanthioides
Description
This perennial herb shows around three leaves just above the soil surface, and a head of about six white flowers enclosed by white or mauve bracts, which are finely striped with green. The rootstock is a small corm and grows up to 1,5 cm in diameter.
The pyjama flower is an inconspicuous flower as it is close to the ground. It blooms in July to September in South Africa.
Habitat
In South Africa, the Pyjama flower grows in dry stony semi-karroid or open grassveld environments.
Field Notes
The Pyjama Flower is also known as 'Little men in a boat' in South Africa due to the intricate flower heads. These flowers can be found in South Africa in the Western and Eastern Cape, KwaZulu Natal and the Free State.