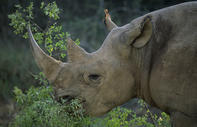 © Nigel Dennis
SouthAfrica.co.za provides readers with interesting information in our South African Nature Guide on marine life, mammals, reptiles, birds, flowers and trees, written and illustrated by experts in their field.
The content is available in all 11 official languages to equip South Africans with general knowledge on the country's natural diversity and beauty.
South Africa's nature can be explored in botanical gardens, walking on a beach or in a forest, while travelling in South Africa or when visiting any of South Africa's numerous nature reserves.
Read about them now in all 11 official languages of South Africa and go see them soon.