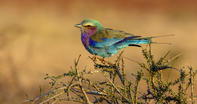 © Roger de la Harpe
Lilac Breasted Roller.
Bird Mania
Nothing shouts 'spring' louder than a frenzied colony of weaverbirds setting up house across the grasslands and savanna of South Africa. The Cape weavers are the most manic of all the weaverbirds. But it's not just the nest building that reminds us of a new season, it's the emergence of dazzling breeding plumages, as seen in widowbirds, bishops, whydahs and, yes, those noisy, busy weavers.
When they are not breeding, the males look very much like their drab brown partners, but they spruce themselves up come mating season to impress the females, who get to choose a nest and breeding mate. Watch out for the desperate gleam in a male weaver's eye as he is made to destroy a substandard nest…
The best thing about watching birds is that you can do it just about anywhere. South Africa Online ® provides informative, educational content on many South African bird species that ornithologists and bird-watchers would enjoy. Find out all about the birds of South Africa including both common and rare bird species.