Vital to Bush Health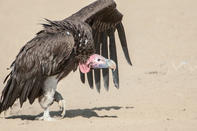 ©Peter Delaney
Lappet-face Vulture Walking towards a carcass.
Vultures play a vital role in the bush – they clean up dead and decaying carcasses and thereby remove centres of disease. They are often cast as motley, evil birds by the media but vultures have an array of marvellous adaptations that suit them perfectly to their 'job description'.
Vultures lack feathers on their heads and necks. This is because they are inclined to insert these parts of their bodies directly into carcasses and if they were covered in feathers, these would easily become soiled. Soiled head feathers are a 'health hazard' and could cause infection or illness. Furthermore, preening these areas would prove difficult. Vultures are in fact very clean birds and most species will bathe regularly to rid themselves of unsanitary debris.
By Megan Emmett