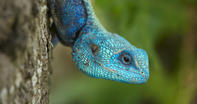 © Roger de la Harpe
Reptiles of South Africa - Tree Agama.
South Africa's unique biodiversity allows for over 350 species of reptiles to thrive in the country. Reptiles are cold-blooded creatures who enjoy the South African sun and prosper in various regions of the country.
South Africa is home to the richest diversity of lizards, snakes, crocodiles, tortoises, chameleons, and turtles on the African continent.
South Africa Online ® explains the life and times of the large variety of indigenous reptiles of the country in 11 official languages, providing descriptive information on their habitat, feeding and appearance.